Well if this is going to be Our Little Wooden House blog I guess we should take ourselves a little tour. I love love love house tours, even my own. So let's go on a tour:
Some of these pictures are a tad old. I guess the watermelon on the kitchen table gives it away. Definitely was summer :) And we have a Christmas tablecloth instead of summery, little details like that. WELL and of course... there is a Christmas tree up now. I took them before our camera broke and some things have been changed a tad. For the most part things are the same. I may try and get a new picture of the bedroom since I did paint that and change the comforter. Santa brought a new camera a few week early so I can actually take a few new pictures! I should admit that this is as clean as our house ever gets. We had someone important coming over and it had to be clean clean.
Here's our humble abode. You can see the front of the house over on the right. I'll try and get a new one of it soon. A little wooden house it is. I'll have to ask Clay to confirm but I think that we stand around 1400 square feet. We have no garage. We have a small tiny shed Clay put up that holds large tools/machinery but no storage area like a garage. So everything - strollers, containers of clothing, carseats, etc. all have to be stored in the house. So... here we go.
So this is when you first walk in and glance left. Living room. kitchen, dining room, homeschooling room, and office all in one.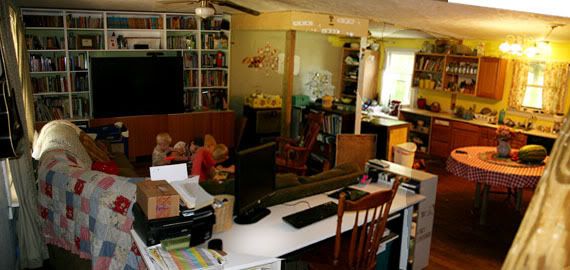 From the kitchen facing the living room: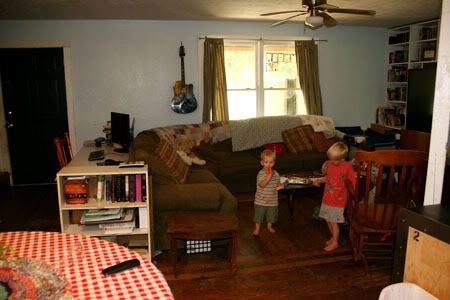 Kitchen: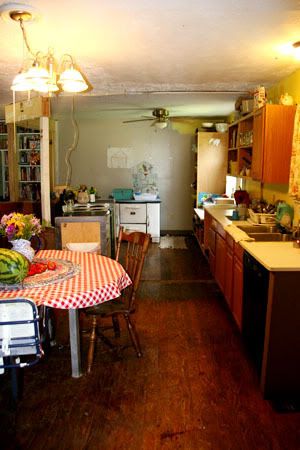 Kitchen Table: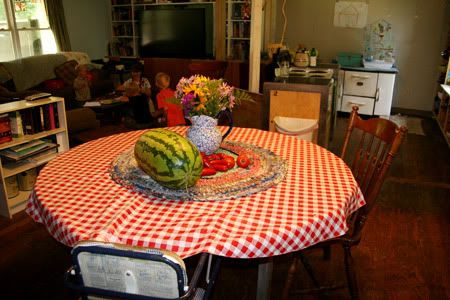 From the Kitchen facing the bathroom and storage room. The pantry is in the middle there.
The downstairs bathroom. There is a bathtub and washer/dryer I didn't get in that shot. *Note that this is the second shot where my 2yo is walking around DRINKING out of a water gun pointed into his mouth. Um.... yeah*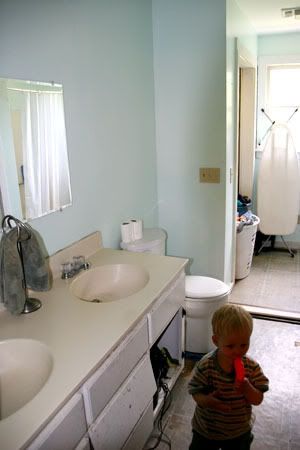 The Storage Room: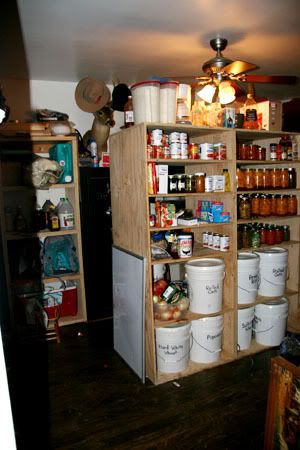 Clothes Shelves to the left in the storage room. Ugh the clutter.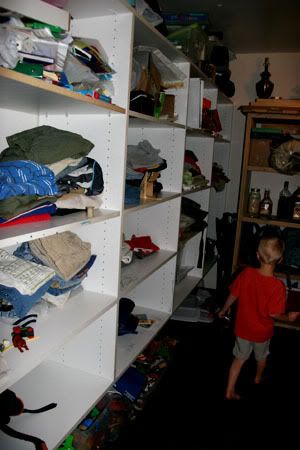 Now if you turn right where those shelves of canned foods are there is a standing freezer, chest freezer and a small closet and shelves. Didn't take a pic of that.
Stairs with shoe shelves, etc. right by front door. Above are all the lunchboxes I needed for day camp. We have since lost most if not all of those nice stainless water bottles. Argh: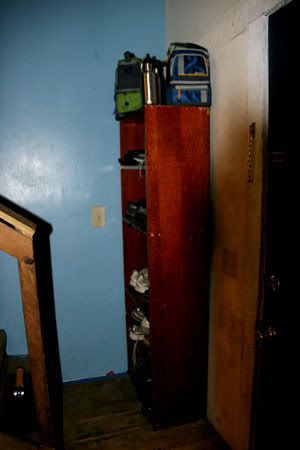 Now we get to the really ugly icky part of the house
Go up the stairs and to the left is the bog part of the room. Clay started building two rooms. The small room for Cassie is on the left. And the boys' room will be on the right and there will be a small tv/game/bookshelves room up there. But for now it's a big ole mess.And to be honest this is much much cleaner than it is right now. While I like blogs that are honest about messes of life, I will NOT be taking a picture of how it is right now LOL.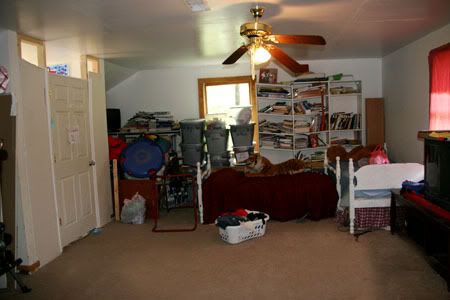 Weights, etc. upstairs. Even at its cleanest (which these pictures are at our cleanest) there was a nice hanger sculpture on the weights.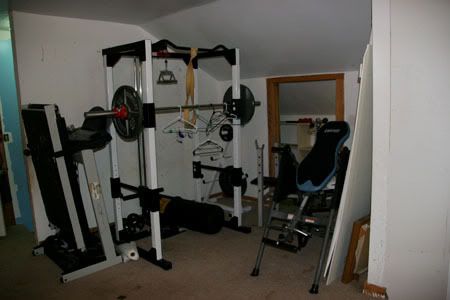 Now at the top of the stairs to the right is our bedroom and also a bathroom. I didn't take pics of the bathroom. It's locked after a child overflowed the toilet in the middle of the night
This is a picture of my bedroom before I painted it. Now it's a pale gray with bright white trim and has a spring green comforter with pale aqua pillows. But anyways, this is the view from the door pretty much.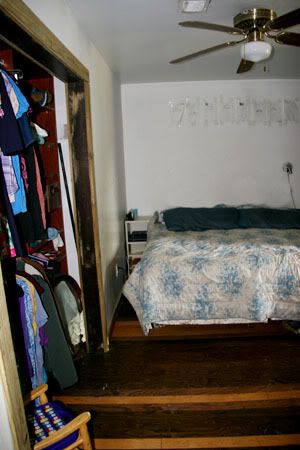 To the right is Clay's "closet" and it's also where Garrison and Hartley sleep. That area is changed around some now but it's not that different so I'll leave the picture. Don't all 4 year old boys need pale pink beds? Well our 4yo has one up on your 4yo. Take that.
We won't even go there on outside pictures. Things are a bit too white-trashey for me to even think of taking pictures of and hey it's winter. I have an excuse not to post pictures right? It's not an outside time of year.
And now you can all A, feel SO happy that you have a bigger house than I do B, have a skewed view of whether I keep my house this clean, C, think how you could never live with such clutter and D, notice the naughty dog on my 4yo's bed and gross out. Naughty dog. And don't forget E, question my parenting skills as you look at those pictures with a water gun pointed in my 2yo's mouth all day.